For Press & Media...
Information about the band, images, logos, and other information for press and media... it's all right here. More of everything arriving soon!
February 2, 2005:
Electrolux Combo CD Release!
January 20, 2005:
Download this full-size (640x480) logo for print use:
.jpg (31 k) | .tif (1.42 mb)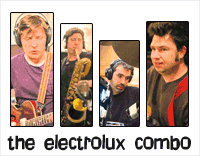 Ongoing:
What they're saying...
Contact Electrolux Combo:
electroluxcombo@yahoo.com